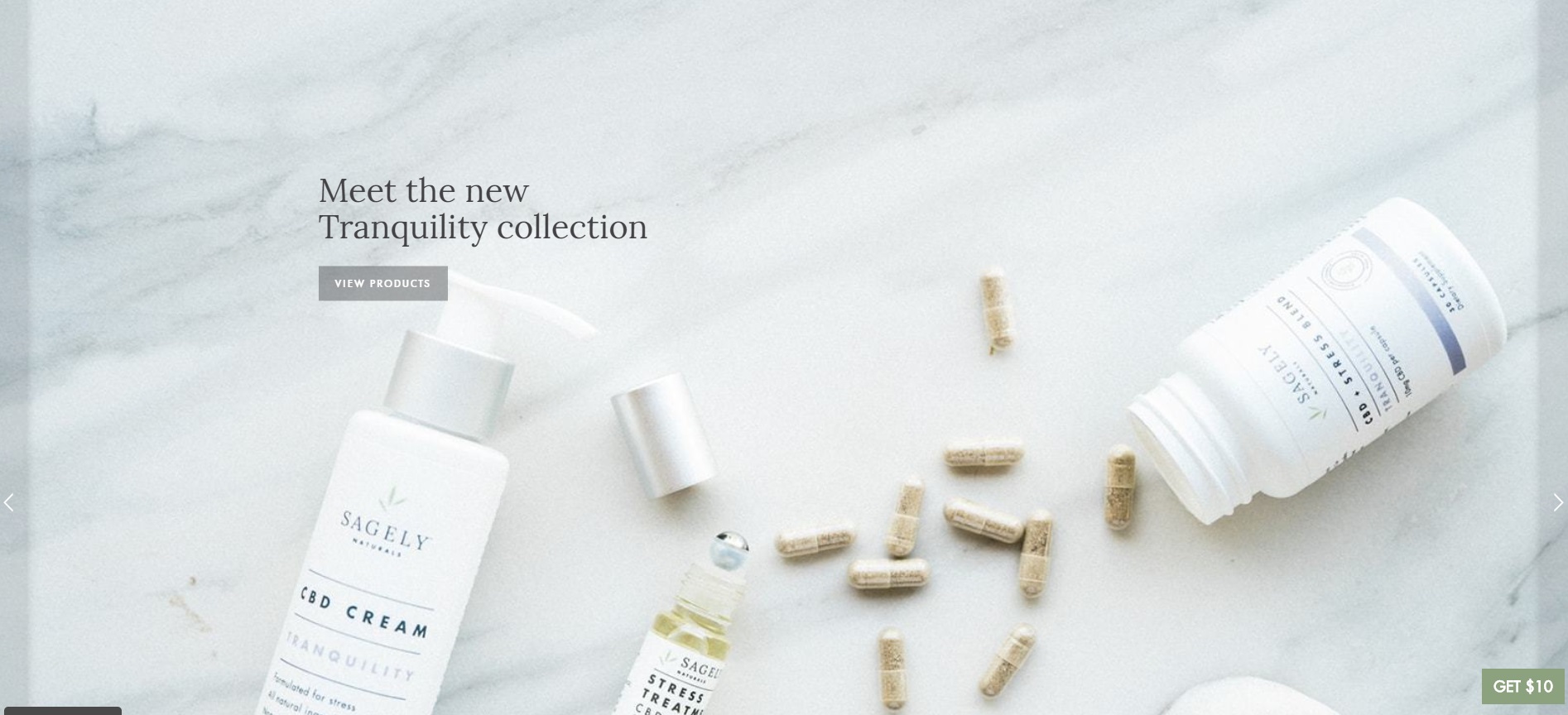 Sagely Naturals CBD Oil Review
Technology is helping humankind change a lot of its long-held perspectives and perceptions of things. Just a few decades ago, the world did not see the word "cannabis" very pleasantly. Everyone was of the opinion that cannabis plants were the reason for young generations' addiction to psychoactive drugs. However, things have changed quite a bit in the recent past as the medical science has realized the many health benefits that can be obtained from this family of plants. More specifically, it is CBD that is being researched and studied around the world for its medicinal benefits.
Believe it or not, CBD (Cannabidiol oil) can treat a lot of health related issues and help you live a life that you have only dreamed of. There are certain companies that are helping in bringing this amazing plant-based product to you in many forms. You don't necessarily have to use CBD in its pure form or in medicines anymore because companies like Sagely Naturals have done the hard work. They have done the hard work of creating many products based on the CBD oil that's obtained from hemp. Let's first talk a little about the company's introduction and then get into the details of how it is helping so many individuals in so many ways.
| | |
| --- | --- |
| Top Rated CBD Oil Brand | Top Rated CBD Oil Brand |
| Grade A CBD Oil | Miracle Nutritional CBD Oil |
---
Introduction to Sagely Naturals
---
Sagely Naturals operates the business of creating and selling CBD-based products for many different purposes. The best thing is that their products are available in a variety of forms e.g. roll-ons, creams, capsules, etc. Sagely Naturals has been around for nearly four years at this point but what makes this company special is that it was started by two brave women. Even four years ago, any industry that worked with cannabis-based products was considered a high-risk industry. People were reluctant to start their stores and companies around cannabis.
Kaley Nichol and Kerrigan Behrens were brave enough to start their own company and create products that are intended to improve mental and bodily health in people. There are a lot of things that the company has done right in these four years. From testing their products multiple times in facilities that have been certified by GMP to working with only natural ingredients, Sagely Naturals is doing something that many other similar companies are only struggling with. Based on the recent researches on the medicinal benefits of CBD oil obtained from hemp, the company is helping people with improved well-being.
Sagely Naturals and Quality of Products
When you are looking for products created from CBD oil as the main ingredient, your first ask is of high quality. You don't want any contaminations of any ingredients that enervate the effects of pure CBD oil obtained from hemp. Secondly, you want to make sure that your use of a product is not affecting the planet in any negative way. CBD oil that comes from other countries is not always produced according to the highest standards of quality. The hemp might not be of high quality or the plants might be genetically engineered. Sometimes, it is the fertilizer, pesticides, etc. that have been prepared from ingredients that are not good for your health.
You have to see if the company you are buying the product from takes care of these details. Unfortunately, not all companies pay attention to them. On the other hand, you have Sagely Naturals, which is a company that grows its hemp only professionally and without any genetic modification. You know what you are using on your body or putting in orally is safe for you without any side effects. If you want to enjoy the best effects of CBD oil, you have to be sure that it comes from organic plants. In addition to that, you have to look at the lab testing of the company.
When it comes to Sagely Naturals, the company pays special attention to this area. Every batch of the oil that's produced by the company is tested in the laboratory multiple times. What's more important is the fact that these laboratories also have strict standards in place. Sagely Naturals claims that its products are tested in GMP certified laboratories. You know at this point that the words like "laboratory" and "testing" are not being used by the company as a marketing stunt.
Sagely Naturals and the Attention to Natural Ingredients
As stated earlier, the company special attention to bringing only the most natural ingredients in its facilities. There are many other companies that make these claims but only a few stand by their words, and Sagely Naturals is one of them. You already know that the company's oil comes from the most natural hemp grown in the most standard adhering facilities. However, Sagely Naturals takes it to another level by making even the co-ingredients all-natural.
One of the things you want to avoid in any products that have been prepared from Cannabis plant family is THC. THC stands for Tetrahydrocannabinol, an element in the Cannabis plant that gives you the sensation of "high". It is this particular sensation that you have to avoid at any cost because it can get you addicted. On the other hand, you have CBD oil that gives you the same medicinal benefits of THC, but without the high effect. When you know the product you have in your hand has gone through triple lab testing, you can rest assured that it will be completely free of THC.
Another issue you will see with most other CBD oil products from other companies is that they like to add a lot of ingredients that are not natural. Some of the most common ingredients are artificial colors, synthetic smells, parabens, etc. When these synthetic ingredients are introduced into the product, the effects of the natural oils become weak. In the end, you have a product in your hand that can be bad for your health, skin, etc. Furthermore, you can end up with unexpected side effects that need to be treated too.
Sagely Naturals and the Variety of Products
No matter how safe and beneficial the CBD oils are, some people are not comfortable taking them in the form of capsules and tablets. Of course, you cannot leave this people out and completely forget them. When they have depression, stress, discomforting, and chronic issues, they need to be helped in some form. You cannot force them to take capsules if they are not willing to. Sagely Naturals has found the perfect solution for these people. They do have CBD oil capsules that you can take for their health benefits, but they have also come up with creams and roll-ons to make things even better. Let's take a look at the benefits of each type of product one by one.
Capsules
The first thing you expect from the products that are made from CBD oils is comfort and calming effect. This comfort can be life changing for you as it helps you live your daily life like never before. When you are comfortable mentally, you can focus better on things and think clearly. Making decisions is much easier when you can think clearly. Not to mention, you can get relief from the tension in muscles and mental stress that comes from sitting in your office and working on hundreds of things. The more your work requires you to focus on the computer screen, the more tired and exhausted you will feel at the end of the day.
The best thing is that there is turmeric in these capsules. In addition to relieving your muscles of the tension, turmeric also helps your joints. You can take these capsules daily to improve your well-being and live every day of your life to the fullest.
Creams
Creams are the perfect solution when only certain parts of your skin are feeling uncomfortable. If you have a skin that often causes you to feel uncomfortable, you are going to love this cream. You just have to apply some of it to the affected area to feel the difference. Since there is menthol included in the product, you will also feel some cooling sensation right after you apply the cream. You don't have to worry about any side effects arising from harsh chemicals because every ingredient in the product is natural and organic. The cream contains vitamins and many other ingredients that will also hydrate your skin to avoid brittleness and dryness.
Roll-ons
If you work daily and have to sit in front of the computer for a long time, you must be very well aware of the pain and discomfort in the head, temples, neck, and shoulders. This pain and strain in the head region can be extremely painful. Left untreated, this discomforting sensation can turn into a full-blown headache. A headache can ruin your entire day, and you know that already if you have it often. With the roll on, you can apply it to the affected area to feel the cooling and relieving effect instantly. This product can take care of any discomforts that you feel occasionally in your temples, shoulders, back of the neck, etc. However, if you have any chronic issues, you should be visiting your doctor at your earliest.
Sprays
Another amazing addition that Sagely Naturals has made into its lineup of products is the sprays. Again, sprays are perfect for when you are feeling discomfort in only a particular part of the body. The spray is better for only topical discomfort. If you have anxiety, stress, tension, etc., it is best that you go for the capsules. If you work out a lot on a daily basis and feel temporary discomfort in certain parts of your body, the spray is perfect for you. When you apply the spray, you don't even have to do any type of massaging. Just apply the spray, let it dry, and wait for the discomfort to go away.
Sagely Naturals Discounts and Promotions
It is quite a surprise for those who want to buy CBD oils from Sagely Naturals that they can get some discount on their purchases. You know the company is only four years old, and a new business does not have a lot of profit margin to offer big discounts. However, Sagely Naturals is leading the way with its generosity as it introduces a huge discount for those who sign up to its regular emails and newsletters. Just sign up with your email address and there is a huge discount of 15% available on your first purchase. This is the perfect opportunity for you to make a big purchase to stock up the required product or to distribute some in your loved ones.
Sagely Naturals for CBD Education
It is important that you understand the value of something before you start using it. You don't want to use CBD oils only because others are doing it. You want to know that science and studies are backing up the claims that are made by companies that make CBD oil products. In addition to that, you want to know additional ways CBD oils can help you live a better and healthy life. That's where the Sagely Naturals blog comes in. On the Sagely Naturals blog, you can find lots of informative posts about CBD oils and the products made from them. If you want to know more about CBD oil and their benefits, you should definitely read the blog posts.
Bottom Line
If you are someone who has been having issues that arise from stress, you can benefit a lot from CBD oil. Discomforting pains, tense muscles, mental stress, etc. that arises from the daily work life can be distressful for any human being. However, you can overcome these issues with the regular use of CBD oils and the products based on them. Sagely Naturals is definitely a recommended choice because of its all-natural products prepared from ingredients that are organic in nature. Not to forget, all the CBD oils used in Sagely Naturals products come from hemp that's nourished and taken care of in the US.
Summary
Reviewer
Review Date
Reviewed Item
Author Rating