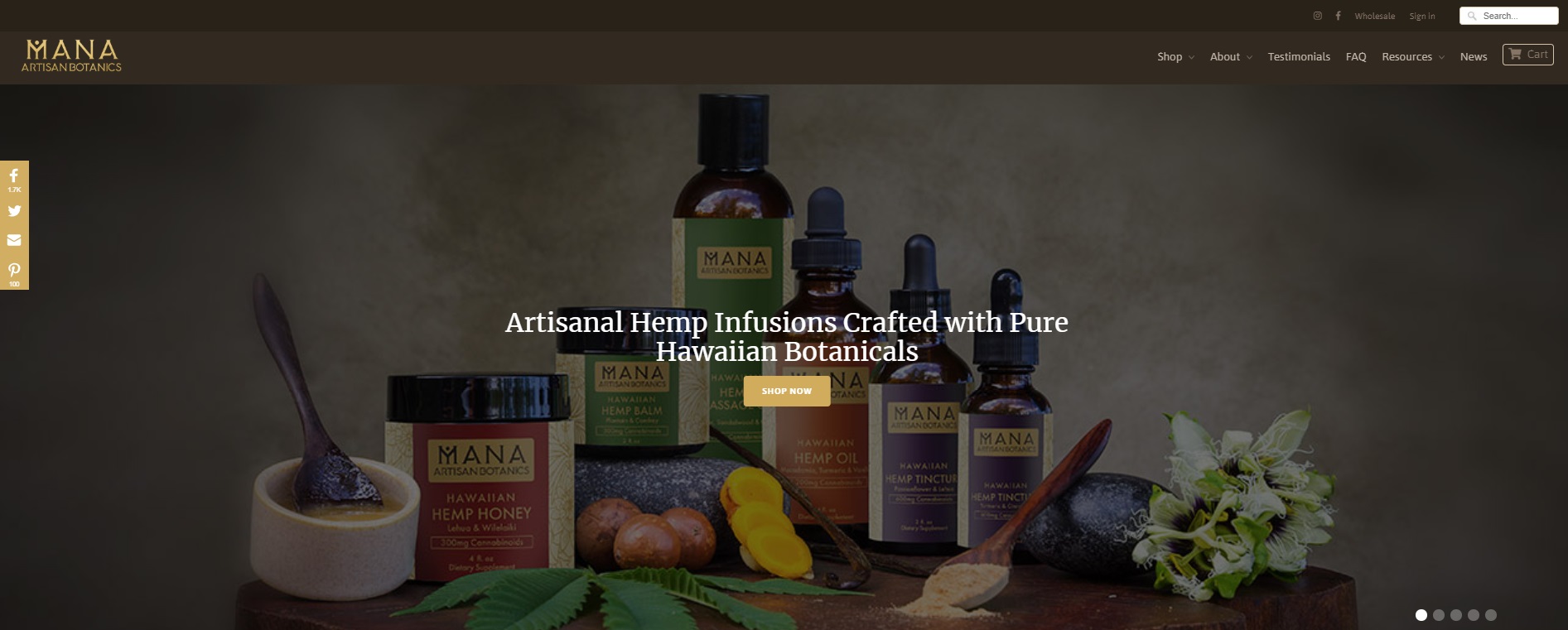 Mana Artisan Botanics CBD Oil Review
The many medicinal and health benefits of CBD oils have been realized in the recent years. More and more people now want to benefit from CBD oil and its many healthy effects on the body. However, when something becomes, it also becomes a business. When a product becomes a business, it is always difficult to find the real product in its original form. There are many companies that sell CBD oil based products today but not all of them produce their products in a wholesome and healthy way. What good is CBD oil for you if it contains contaminants, illegally high traces of THC, and pesticides?
Mana Artisan Botanics has proven to be one of the best companies producing high quality CBD oils and many products based on them to help you with various health related issues. Let's see if the company is doing enough to provide its customers with everything they need.
An Introduction to Mana Artisan Botanics
Producing high quality CBD oils requires you to be passionate about this work. People who are in it for just business do not understand the intricacies of producing high quality oils and infusions. Not every cannabis plant is nurtured in a healthy environment. The use of pesticides and the addition of various synthetic chemicals in the later stages make CBD oil infusions less effective. Not to mention, they can create various health related issues as well. The co-founder of the Mana Artisan Botanics is someone who you can instantly tell is passionate about his work. Steve Sakala, the co-founder of the company, has been doing his researches on cannabis and its medicinal benefits for three decades.
He has seen all the stages where cannabis industry faced all sorts of troubles. At one point, he had almost lost the farm where he used to grow legal cannabis and research on it to discover its medicinal benefits. It was a long struggle for the starters of the company which finally resulted in the creation of Mana Artisan Botanics. The best thing about the owners of this company is that they are dedicated to regenerative agriculture and other sustainability campaigns in the world. So, while they want to grow cannabis for its health benefits, they also want to do it in the most professional and environmentally friendly way possible.
The products the company produces for its companies comes from the farms that are located in Hawaii. These are some of the best farms because cannabis plants are grown here without the use of harmful pesticides and methods that can affect the final quality of the CBD oil.
| | |
| --- | --- |
| Top Rated CBD Oil Brand | Top Rated CBD Oil Brand |
| Grade A CBD Oil | Miracle Nutritional CBD Oil |
---
What Makes Mana Artisan Botanics Different
---
There are many factors that separate Mana Artisan Botanics from various other companies in the industry. The first thing you have to know about the company is that its products are only for health benefits. The owners of the company want people to live healthy lives and that's their passion behind the production of such amazing infusions. You also have to remember here that Hawaiian lands are rich in volcanic minerals. The infusions that are created at Mana Artisan Botanics are a result of the plants and herbs that are grown in this mineral-rich soil.
The commitment from the company to high quality and customer care is evident from its processes. First, it is not working secretly in its laboratories. In fact, it works with one of the most well-known research centers on cannabis called Wholistic Research and Education Foundation. The company focuses on producing phytocannabinoids-based products for improving the endocannabinoid health. Every ingredient used in the infusions from the company is grown in the farms in Hawaii. These farms are also owned by the owners of the company who know how to produce the healthiest conditions for this cannabis plants.
Mana Artisan Botanics is also dedicated to using the safest methods to extract CBD oils from high quality hemp. The company also ensures that it grows the hemp in the most viable and wholistic conditions possible. During the extraction of the oils and preparation of the products, Mana Artisan Botanics ensures that they go through multiple lab tests. These tests are conducted to check several contaminants and harmful agents in the produce. First, there should be no heavy metals in the product as they affect the product negatively. In addition to that, the company has to make sure that no pesticides are in the final product.
Another important issue that needs to be taken care of is the presence of THC in the final product. If there is more than 0.3% THC in the oil, it will be illegal and also cause the high effect to the customers. However, Mana takes care of the lab tests as it conducts them in multiple laboratories. The final product is completely free of any presence of THC.
Why Mana Artisan Botanics Infusions Are the Healthiest
As stated earlier, a person who creates any products based on CBD oils and hemp has to know about the plant personally. It is like producing coffee wherein mixing beans from multiple sources can completely ruin the taste of a high-quality and premium coffee bean. There are many companies that produce various hemp infusions, but they don't pay much attention to how their hemp is farmed, which pesticides are used, and where the plant growth takes place. On the other hand, you have Mana Artisan Botanics, a company that has its own farms where it creates the perfect conditions to produce its non-GMO products.
To make sure the final product going into your body is completely natural and organic, you have to have some sort of surety from the company. In this particular case, the company ensures that all of its ingredients are certified organic. The attention to the production of hemp and CBD oils is great because it all happens before the eyes of the owners. They grow their ingredients on their own farms. If for some reason the produce from their farm is not enough, they only use local farms as a backup. In the end, you know that the product you are getting from Mana Artisan Botanics is prepared from pure Hawaiian ingredients.
Mana Artisan Botanics' Many Products
A company that's being run by people who have been researching and studying hemp for decades is in perfect position to create the best hemp infusions. While other companies are only producing one or two hemp based products, Mana Artisan Botanics is definitely taking care of all of its customers. The company has put its products in six different categories based on how consumers can use them. Let's take a look at all of these products.
Honey
Of course, one of the main ingredients in this honey is hemp oil. However, even the honey used in this infusion is not ordinary. It is one of the rarest forms of honeys present in Hawaii and when you combine it with phytocannabinoids, you have a perfect infusion that makes you feel refreshed and rejuvenated. The product has been created perfectly to go with a lot of what you eat and drink. If you like bread slices, you can apply it on a piece and eat. You can even add the honey to your tea and take advantage from the many healthy ingredients. Not to mention, you can use this honey in face masks as well. Doing so will be highly beneficial for your skin. Inside your body, this honey boosts your immune system, helps you relieve stress, improves your digestion.
Pet Drops
If you have a pet, you must love it like a family member. If you want instant relief for your pain, why not give the same to your pet? Mana Artisan Botanics produces an excellent pet drop that can help your pet get rid of pain instantly. It also includes turmeric in it to help the pet with joint and bone issues. The way to give these drops to your pet is simple. Mix or pour the drops on whatever food your pet loves the most.
Tinctures
If you have any digestion related issues or you suffer from tension in your muscles all the time, you might want to give tinctures a try. If you don't like the sweetness of the honey, you might want to go with this option. It does have a hint of the honey from Hawaiian gardens but it is still much milder than the honey infusion stated above. You can add this tincture to a glass of water or juice to benefit from it. Using this tincture regularly can help you stay calm and comfortable during the day. It can also help you relieve the muscular tension that arises from working in the office for the entire day.
Oils
This is the purest form you can get the extracts from the hemp in. This naturally produced oil from premium hemp extract can help you with various anxiety and stress related issues. Again, the company infuses turmeric produced in its own farms in the mineral rich soil of Hawaii to add some benefits for your joints. If you want something with high concentration of CBD, this oil is the perfect product for you.
Topicals
Topicals are available in many shapes and forms. These are the infusions that have been created to provide you with instant relief when you are in pain or are experiencing discomfort. You can find the topicals in the form of oil and balm. The mixture created from hemp oil,         beeswax and coconut oil is silky in texture. The addition of peppermint ensures that there is a cooling effect when you apply it to the affected area. Eczema, sunburns, and neve pains are the issues that you can best treat with the help of these hemp topicals created by Mana Artisan Botanics.
Sets
Now, if you can't decide which particular product you should get, the best thing to do is to get a set. The set from Mana Artisan Botanics contains multiple infusions. They have been put in different categories based on what you can achieve with them. Some are specifically suited if you have topical issues and others are meant for people who want a concentrated and high quantity of CBD. From sleep issues to digestive problems, you can treat just about any issue with these infusions that have been created after several years of research and work.
Mana Artisan Botanics Discounts
When you look at the products from Mana Artisan Botanics, you will notice that everything is high quality and premium. These products have great packaging, but more importantly, they have been created from ingredients that you will not find elsewhere in the world. The botanicals grown in the mineral-rich soil of Hawaii under conditions that are wholesome and healthy for the plants are not found everywhere. Not to mention, these ingredients are 100% organic so you don't have to worry about any issues that arise from GMO products.
Despite these products being of such high quality, there is some discount available for you. At the time of writing this review, you can get completely free shipping on your orders when they are over $150. Of course, you should not hesitate from stocking up a few sets and oils because of their benefits. Tinctures have long shelf life so you can definitely order a few of them without any issues of expiration. Use these products daily in your life to see the difference.
Final Thoughts
It has to be mentioned here that companies like Mana Artisan Botanics are not easy to find. The medicinal cannabis and CBD oil industries are saturating at a high pace. These pioneers of the hemp oils and infusions can be easily found today. However, there might be hundreds and thousands of companies tomorrow. Most of them will be there only for the purpose of doing business. You might not get the quality of products from them that you can get from Mana Artisan Botanics today. These passionate producers of hemp infusions are definitely respectable. And if you are looking forward to improving your quality of life, their products are the most recommendable.
Summary
Reviewer
Review Date
Reviewed Item
Mana Artisan Botanics CBD Oi
Author Rating